I.T.S. Chain Hoist New Year Greetings
Allow us to congratulate you on the arrival of the Lunar New Year and to extend to you all our best wishes for your perfect health and lasting prosperity in 2015.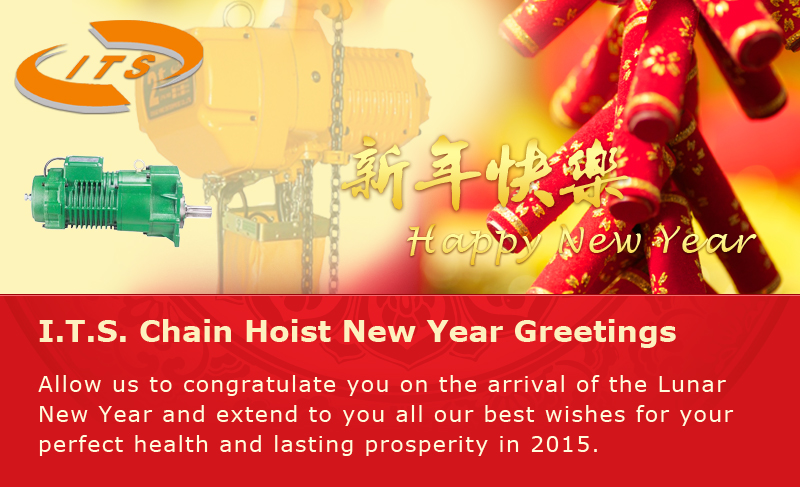 New Year Legend

Chinese New Year is the most important and, at 6 days, the longest holiday in Chinese culture. You may curious about the story for the origin of New Year legend.

The centuries-old legend on the origins of the New Year celebration varies from teller to teller, but they all include a story of a terrible mythical monster that preyed on villagers.


The lion-like monster's name was Nian (年) which is also the Chinese word for "year."

The stories also all include a wise old man who counsels the villagers to ward off the evil Nian by making loud noises with drums and firecrackers and hanging red paper cutouts and scrolls on their doors because for some reason, the Nian is scared of the color red.

The villagers took the old man's advice and the Nian was conquered. On the anniversary of the date, the Chinese recognize the "passing of the Nian" known in Chinese as guo nian (過年), which is also synonymous with celebrating the new year.
Traditional Customs

Spring cleaning is a common theme during this time, every family is busy giving its house a thorough cleaning, hoping to sweep away all the ill-fortune there may have been in the family to make way for the wishful in-coming good luck.

Though the holiday is only about a week-long, traditionally it is a 15-day holiday during which firecrackers are lit, drums can be heard on the streets, red lanterns glow at night, and red paper cutouts and calligraphy hangings are hung on doors.


Celebrations conclude on the 15th day with the Lantern Festival.

Children are also given red envelopes with money inside. Many cities around the world also hold New Year parades complete with a dragon and lion dance.
Symbolic Chinese Foods

Food is an important component to New Year. Traditional foods include nian gao or sweet sticky rice cake and savory dumplings - which are round and symbolize never-ending wealth.

Fish also play a large role in festive celebrations. The word for fish, "Yu," sounds like the words both for wish and abundance. As a result, on New Year's Eve it is customary to serve a fish at the end of the evening meal, symbolizing a wish for abundance in the coming year.


For added symbolism, the fish is served whole, with head and tail attached, symbolizing a good beginning and ending for the coming year.
CHIAO HUEN MACHINERY CO., LTD.
I.T.S. CHAIN HOIST TAIWAN
TEL: +886-2-29959400 / +886 -2-29950825 FAX: +886-2-29959401
MAIL: sales@chainhoistmanufacturers.com
http://www.electric-chainhoist.com/ (multiple language web)